Bioinformatics & Computational Biology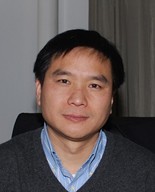 Tieliu Shi, Ph.D
Professor of Bioinformatics & Computational Biology
Shanghai Key Laboratory of Regulatory Biology
School of Life Sciences
East China Normal University
Tel: 86-21-54345020
Fax: 86-21-54344922
Email: tieliushi01@gmail.com
Dr. Tieliu Shi received his MS degree in Computer Science in 1999 and his Ph.D degree in Molecular Biology in 2000 from University of Louisville. He returned to China in August, 2002 and joined The Bioinformatics Center of Shanghai Institutes for Biological Sciences, Chinese Academy of Sciences. In 2008, he moved to East China Normal University in November, 2008. His research interests include protein protein interaction network prediction; gene regulatory network prediction; methodology developments and applications in the high through-put data analysis; computational systems biology and biological systems modeling; BioData integration and platform development; disease gene, disease mechanisms and biomarker identification; drug target, drug efficacy and adverse prediction, including Traditional Chinese Medicine; Bioinformatics software development.
Since returned back to China, Dr Shi has published near 60 papers and got multiple grants including grants from National Natural Science Foundation of China, State Key project (973) and 863 project, Science and Technology Commission of Shanghai Municipality etc..
Members of Tieliu's Group
Ph.D candidates: Peng Li, Jian Cui, Qi Lv, Geng Chen, Xiangjun Ji, Hao Wang
MS graduate students: Pengzhan Hu, Yanli Liu, Shanshan Ding, Ruichao Xue, Zhao Fang, Zhongchao Shen, Bingxing Lu, Yong Cheng, Caiping Shi, Long Chen, Jianmin Yang, Xiongfei Qu, Jiwen Chen, Peiying Zhou, Ruifang Cao, Huan Wang, Juan Yang, Jingwen Feng, Li Zhang, Guangting zhang, Yu Du.
Research interests
Protein protein interaction network prediction
Methodology developments and applications in the high through-put data analysis
Computational Systems Biology and biological systems modeling
Gene regulatory network prediction
BioData integration and platform development
Disease gene, disease mechanisms and biomarker identification
Drug target, drug efficacy and adverse prediction, including Traditional Chinese Medicine
Bioinformatics software development
Selected Professional Committee Assignments
Council member, Shanghai Society of Plant Physiology
Council member, Shanghai Society of Biochemistry and Molecular Biology
Council member, Shanghai Society of Bioinformatics
Standing Committee of Medical Sciences, Science China Life Sciences journal
Grants
| | | | | |
| --- | --- | --- | --- | --- |
| Project Number | Title | Sources | Amount | Period |
| 31240038 | Reannotation human genome | National Natural Science Foundation | 150,000 | 2013 |
| 31171264 | The network of chloroplast protein modification | National Natural Science Foundation | 600,000 | 2012-2015 |
| 2010CB945400 | The regulatory mechanisms of iPSs to germ cells and their applications | State Key Project (973) | 500,000 | 2010-2014 |
| 2013CB127000 | Evaluation of the nutritional quality of crops and the mechanism of their molecular improvement | State Key Project (973) | 1,100,000 | 2013-2017 |
| 20120076110066 | Extend human secreted proteome | Ph.D. Programs Foundation of Ministry of Education of China | 120,000 | 2013-2015 |
Publications (since 2010, * as correspondence author):
Chen G, Wang C, Shi LM, Tong WD, Qu XF, Chen JW, Yang JM, Shi CP, Chen L, Zhou PY, Lu BX, Shi TL* Comprehensively identifying and characterizing the missing gene sequences in human reference genome with integrated analytic approaches. Human Genetics, (Accepted)
Fang Z, Zhang MX, Yi ZH, Wen CP, Qian M, Shi TL* Replacements of Rare Herbs and Simplifications of Traditional Chinese Medicine Formulae Based on Attribute Similarities and Pathway Enrichment Analysis. EVID-BASED COMPL ALT. vol. 2013, Article ID 136732, doi:10.1155/2013/136732, 2013.
Chen G, Wang C, Shi LM, Qu XF, Chen JW, Yang JM, Shi CP, Chen L, Zhou PY, Ning BT, Tong WD, Shi TL* Incorporating the human gene annotations in different databases significantly improved transcriptomic and genetic analyses. RNA 19: 479-489, 2012
Chen G, Shi TL* Next-generation sequencing technologies for personalized medicine: Promising but challenging. Sci China Life Sci., 56(2): 101-103, 2013
Jia MW, Liu YL, Sheng ZC, Zhao C, Zhang MX, Yi ZH, Deng YP, Shi TL* HDAM: a resource of human disease associated mutations from next generation sequencing studies. BMC Medical Genomics, 6(Suppl 1):S16, 2013
Liu YL, Li ZZ, Zhang MX, Deng YP, Yi ZH, Shi TL* Exploring the Pathogenetic Association between Schizophrenia and Type 2 Diabetes Mellitus Diseases based on Pathway Analysis. BMC Medical Genomics, 6(Suppl 1):S17, 2013
Ruichao Xue, Zhao Fang, Meixia Zhang, Zhenghui Yi, Tieliu Shi* TCMID: Traditional Chinese Medicine Integrative Database for Herb Molecular Mechanism Analysis. Nucleic Acids Research 41(D1): D1089-D1095, 2013
Lu BX, Chen G, Shi TL* Comparative study of de novo assembly and genome-guided assembly strategies for transcriptome reconstruction based on RNA-Seq. Sci China Life Sci., 56(2): 143-155 , 2013
Zhao C, Mao JH, Ai JM, Shenwu M, Shi TL, Wang XN and Deng YP Integrated lipidomics and transcriptomic analysis of peripheral blood reveals significantly enriched pathways in type 2 diabetes mellitus. BMC Medical Genomics, 6(Suppl 1):S12, 2013
Qiu XJ, Ding SS, Shi TL* (2012) From understanding the development landscape of the canonical fate-switch pair to constructing a dynamic landscape for two-step neural differentiation. PLoS One 7(12): e49271), 2012
Chen G, Yin K, Shi L, Fang Y, Qi Y, Li P, Luo J, He B, Liu MY, Shi TL*. Comparative analysis of human protein-coding and noncoding RNAs between brain and 10 mixed cell lines by RNA-Seq. PLoS One. 6(11): e28318, 2011.
Chen G, Li RY, Shi LM, Qi JY, Hu PZ, Luo J, Liu MY, Shi TL*. Revealing the missing expressed genes beyond the human reference genome by RNA-Seq. BMC Genomics. 12(1):590, 2011.
Wang JG, Qiu XJ, Li YH, Shi TL*. A dynamic network of transcription during Arabidopsis thaliana pollen development. BMC Systems Biol. 5(Suppl 3):S8, 2011
Zhao C, Shi LM, Tong WD, Shaughnessy JD, Oberthuer A, Pusztai L, Deng YP, Symmans WF, Shi TL*. Maximum predictive power of the microarray-based models for clinical outcomes is limited by correlation between endpoint and gene expression profile. BMC Genomics. 12(Suppl 5):S3, 2011
Chen J, Li T, Wu Y, He L, Zhang L, Shi TL, Yi Z, Liu M, Pang X. Prognostic significance of vascular endothelial growth factor expression in gastric carcinoma: a meta-analysis. J Cancer Res Clin Oncol. 2011, 7(12):1799-812.
Chang C, Wang JW, Zhao C, Fostel J, Tong WD, Bushel PR, Deng YP, Pusztai L, Symmans WF, Shi TL*. Maximizing biomarker discovery by minimizing gene signatures. BMC Genomics. 12(Suppl 5):S6, 2011
Xu F, Zhao C, Li YH, Li J, Shi TL*. Exploring virus relationships based on virus-host protein-protein interaction network. BMC Systems Biol 5(Suppl 3):S11, 2011
Chen G, Wang C, Shi TL* Overview of available methods for diverse RNA-Seq data analyses. Sci. China Life Sci. 54(12):1121-1128, 2011
Chen G, Yin KP, Wang C, Shi TL* De novo transcriptome assembly of RNA-Seq reads with different. Strategies. Sci China Life Sci. 54(12):1129-1133, 2011
He B, Zhang H, Shi TL*. A comprehensive analysis of the dynamic biological networks in HCV induced hepatocarcinogenesis. PLoS One 6(4):e18516, 2011.
Li P, Zang W, Li Y, Xu F, Wang J and Shi TL*. AtPID: the overall hierarchical functional protein interaction network interface and analytic platform for Arabidopsis. Nucleic Acids Res. 39(Database Issue): D1130-1133, 2011
Cui J, Liu J, Li Y, Shi TL*. Integrative identification of Arabidopsis mitochondrial proteome and its function exploitation through protein interaction network. PLoS One 6(1):e16022, 2011
He B, Qiu X, Li P, Wang L, Lv Q and Shi TL*. HCCNet: an integrated network database of hepatocellular carcinoma. Cell Research 20:732-734, 2010
Wang J, Jia M, Zhu L, Yuan Z, Li P, Chang C, Luo J, Liu M, Shi TL*. Systematical detection of significant genes in microarray data by incorporating gene interaction relationship in biological systems. PLoS One. 5(10):e13721, 2010
Shi L, Campbell G, Jones WD, Campagne F, Wen Z,…, Shi TL, Shi W, Wolfinger RD, etc. The MicroArray Quality Control (MAQC)-II study of common practices for the development and validation of microarray-based predictive models, Nat Biotechnol 28:827-838, 2010
Luo J, Schumacher M, Scherer A, Sanoudou D, Megherbi D, Davison T, Shi TL, Tong W, Shi L, Hong H, Zhao C, Elloumi F, Shi W, Thomas R, Lin S, Tillinghast G, Liu G, Zhou Y, Herman D, Li Y, Deng Y, Fang H, Bushel P, Woods M and Zhang J. A comparison of batch effect removal methods for enhancement of prediction performance using MAQC-II microarray gene expression data. Pharmacogenomics J. 10(4):278-91, 2010\
Zhao C, Liu H, Li J, Deng Y-P, Shi TL* Nucleosome structure incorporated histone acetylation site prediction in Arabidopsis thaliana. BMC Genomics 11 (Suppl 2):S7, 2010
Xu F, Li G, Li P, Li Y-H, Zhao C, Cui J, Deng Y-P, Shi TL* Global protein interactome exploration through mining genome-scale data in Arabidopsis thaliana. BMC Genomics 11(Suppl 2):S2, 2010
Wang L-S, Xiong Y-Y, Sun Y-H, Fang Z-Y, Li L, Ji H-B, Shi TL* HLungDB: an integrated database of human lung cancer research. Nucleic Acids Res. 38: D665-669, 2010